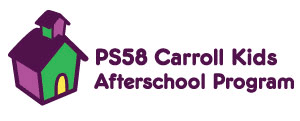 Coverage Options
2022-23 school year options
We will be offering onsite aftercare from the end of school (2:50 for most students) until 6:30pm.
We ask that students enroll for a trimester at a time.
Partial afternoons
Each Partial Afternoon is a half afternoon of coverage: from school dismissal to 4:15pm ("EARLY Partial"), or 4:15 to 6:30pm ("LATE Partial"). You can register for Partial Afternoons just as you do for full days; the same rules apply.
Drop in aftercare
Families who are registered with Carroll Kids, may enroll on a drop-in basis. You MUST pre-register to take advantage of Drop-Ins. You can do this by creating an account here. Your account must be created at least 7 days in advance of your first Drop-In. We highly recommend setting this up at the beginning of the school year.
Drop-ins are available to families if there is space in our Aftercare program. Requests need to be made by email to carolynR@ps58pta.org at least 24 hours in advance. Please include your child's full name, classroom and the date you need childcare. For Mondays, please notify us by Friday. Once a Drop-in reservation is confirmed, it may not be cancelled. Drop-ins are $50 per day per child for grades K – 5; $55 per day per child for PreK. Drop-ins are a full-day option only (school dismissal until LAST PICK-UP @ 6:30pm)
Carroll Kids camps for coverage during school non-attendance days and holidays
The 2022-23 school year includes the following camp dates:
Monday & Tuesday, September 26 & 27 (Rosh Hashanah)
Wednesday, October 5 (Yom Kippur)
Thursday, November 3 (Half Day Camp; Parent Teacher Conferences)
Tuesday, November 8 (Election Day)
Tuesday–Friday, February 21–24 (February Break)
Thursday, March 9 (Half Day Camp; Parent Teacher Conferences)
Thursday, April 6 (Passover)
Tuesday–Friday, April 11–14 (Spring Break)
Thursday & Friday, June 8 & 9 (Anniversary Day / Chancellor's Conference Day)
On these occasions, Carroll Kids will run all-day camps from 8:30am to 5pm. Students may register for the day (8:30am to 3pm) and/or extended day (3 to 5pm). The cost of "Carroll Kids Camp" varies according to the activities planned. (In the past we've visited Liberty Science Center, Bronx Zoo, The American Museum of Natural History, Brooklyn Bridge Park, Greenwood Cemetery, Kerber's Farm, Cobble Hill Cinema, Sloomoo Institute, The Muse, and more.) Information on these camps will be emailed to you 6-weeks prior to dates.
The holidays during which Carroll Kids will NOT offer Camp include:
Friday, November 11
Monday, January 16
Monday, February 20
Friday, April 7
Monday, April 10
Friday, April 21
Monday, May 29
Monday, June 19
Coverage during half-days of school
Half-day coverage is for the period from 11:50am until 2:50pm when Carroll Kids begins. On school half days, every parent interested in coverage MUST REGISTER! This year we have not included any of the days we are not offering aftercare in the cost of the session. If you are interested in care on a day that we are offering camp (even if your child would normally attend on that day) must register for our camp with the the half day or full day coverage.
Questions or changes?
To notify us of a trimester schedule change please email CarrollKids@ps58pta.org; if it's a billing question, please email billing@ps58pta.org or call 718-330-9322 x1001. We're always happy to help!
Carroll Kids, the PS 58 PTA Afterschool, is a Not-For-Profit Organization and qualifies as childcare for tax purposes. EIN: 54-2159278