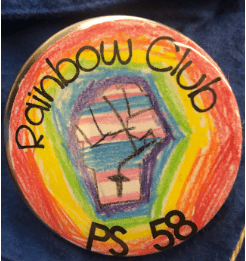 About the Rainbow Club
Rainbow Clubs are Elementary School versions of a GSA (Gender Spectrum Alliance) used nationwide. Founded in 2019, Michele Lazar and Stephen Cedermark beganhosting and organizing a monthly Rainbow Club for LGBTQ+ students, LGBTQ+ families and all allies. Each meeting allows time for students and families to play and connect, a read aloud, and an activity or action. Rainbow Club is open to all LGBTQ+ students and families, as well as student allies. Students may come without their families, but families are always welcome to join.
2020-2021 meeting dates are still being worked out. We will update this page as soon as they are confirmed. Stay tuned!
You can reach The Rainbow Club at: rainbow@ps58online.org.
Visit the Rainbow Club page at the S.T.R.I.D.E. website for lots of resources for families. Find it on Konstella in Files & Links.